The last 10 years have been a great time to be alive if you're a Giants fan, and it's not especially close. I regret not seeing Willie Mays in his prime, but I don't regret missing Candlestick at night before they closed the outfield. I regret not watching Christy Mathewson dazzle the world, but I don't regret missing the typhoid and trench foot. What we've been lucky enough to see: The best hitter of his generation (if not all-time), MVPs, Cy Youngs, a Rookie of the Year, pennants, and World Series victories, all in the most beautiful park in baseball. What a time, what a world.
I miss the can't-miss prospect, though. I miss the feeling of waiting waiting waiting for your guy, the one who could do anything. The one guy who is almost certain to win titles and awards and make the Hall of Fame because he hasn't not done it yet. I know that championships are neat and the end results of those dreams, but the anything-is-possible feeling that Cubs fans are feeling with Kris Bryant right now is uniquely special and rare.
So let's look back. Let's look back at the prospects who drove us wild with potential and speculation. Let's look back at some of the Kris Bryants of the past. At least, the ones I can remember.
Will Clark
So much hype. So much pressure. He was supposed to rescue the team from the 100-loss abyss, and his first at-bat was against a 100-mph fastball. Good thing Will Clark was
.
This is the only video of his debut on the Internet. If you have a better one, please upload it, and you will go to jail, but at least we'll recognize your sacrifice.
Some people find it hard to believe:
Is it true Will Clark hit a homerun off of Nolan Ryan in his first at bat, on the first pitch, he ever saw?
Some people find this a good chance to well-actually in a hilarious fashion:
Mostly true. It wasn't the first pitch he ever saw -- Clark had played baseball for years, was part of Team USA in 1984 (with McGwire and a bunch of storied others), played in the minors a bit.
"Calm down. He had actually held a bat before. He didn't win a contest to hit off Nolan Ryan."
I remember where I was, certainly.
I was watching it in the kitchen as my mom cooked. I'm not going to be so coy as to pretend I remember what she was cooking, but I remember a lot. The angle of the TV. The antiquated shape of it. The clock-radio screwed into the cabinet above it. And I remember knowing who he was as an eight-year-old -- when there wasn't a fire hose of hope spraying us with Internet hype, an eight-year-old still had an idea of who that rookie was. He was a rookie burdened with expectations.
He out-legended a legend that day. Maybe the best debut we'll ever see.
Jesse Foppert
I have to skip Matt Williams because I don't remember that debut/scenario. I know that he made the Belt Wars look tame with his struggles. We'll skip right to the crushing disappointment of Foppert, who made his televised debut in a spring game against the Mariners and looked ... so very ordinary. He didn't have command. He didn't have the fastball that was promised. We figured out why later, of course: His body betrayed him before he could throw a single pitch in the majors.
We used to be inundated with articles like this:
Ball comes out of hand easy. Minimal effort to reach major league average velocity. Aggressive with fastball. Sets up hard, down biting splitter by commanding fastball, slider. Occasional sharp-breaking slider. Repeats delivery. Commands both sides of the plate. Ready to pitch.
Sigh.
Matt Cain
This was the first big prospect of the McCovey Chronicles era, as most historians refer to it. We were ready:
The fastball is what made him a first-round pick, and it's dirtier than the average pair of socks at a Phish show.
Cool joke, guy. Not forced, dated, or crappy at all.
If I may repeat myself, Cain roping in his talent to be a league-average starter by next season is a privilege, not a right. The first look at Cain was about what we could expect. The fastball was quick and lively, the breaking ball was a magnificent tease about 10% of the time, and the control was much closer to Russ Ortiz than Roger Clemens. For a 20-year old kid, though, Cain was as good as the Dead Sea Scrolls predicted.
It took five years for him to get a team around him that was even competitive. He was never the only special thing about the Giants in the darker years -- he was the bridge between the final Bonds years and the arrival of Tim Lincecum -- but he was the most consistently special thing for years and years. Send a video of the perfect game and just 2012 back in time, and I would have had an out-of-body experience. It was even better than that, though. It was even better.
Tim Lincecum
It helps to remember his professional debut. Eight starts. Thirty-one innings. Fifty-eight strikeouts. Then he started the next season in Fresno, where he started five games, posted a 0.29 ERA, and struck out 46 in 31 innings. He might have been the most-hyped prospect since Clark, and I wouldn't fault you if you vaulted him over Clark when it came to hype. There was no Internet to speak of with Clark. Lincecum had nerds on blogs hyping him up. Like, oh, this:
`Twas the night before Lincecum, and all through Mays Field
Not a creature was stirring, not even Lou Seal
The pitcher's mound dirt was packed down with care
In preparation for our hero, who would soon be there
That's still one of my favorite things I've ever done for this site, in part because it was so very earnest. I was indescribably excited for that outing, as if there were wisps of the future that we were all able to detect with our third eye.
He was even better than we expected. Here's a random start you've probably forgotten about, just to remind you what we would expect every time he pitched:
Buster Posey
This was the most frustrating call-up because a) the Giants were contending, b) they couldn't hit, and c) Bruce Bochy refused to play Posey. That's not hyperbole -- he flat refused. With expanded rosters, Bochy didn't even use Posey as a pinch-hitter. Posey was called up on September 2, and he received 17 at-bats for the rest of the season, 14 of which came after September 25, when the Giants were five back of the wild card with eight to play. That means from September 3 through September 23, Posey got three at-bats.
Three at-bats in three weeks. On a team desperate for offense. On a team with Bengie Molina hitting cleanup. Those three at-bats came when the Giants were getting blown out, too. Eli Whiteside started four games between the time Posey was called up and the time he got his first start.
/punches wall
Sorry, sorry. That takes me to such a dark place. Bruce Bochy and Brian Sabean are both Hall of Famers now, remember that, Grant, remember that, stop punching walls, it all worked out. Maybe Posey had an injury we didn't know about. Always assume there's something behind the scenes.
/punches wall
It all worked out! We all enjoyed Buster time.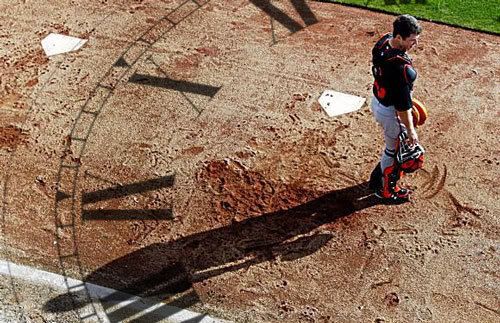 (By Natto, of course)

And Buster time has been very, very good to us. I'm also very happy that Tim Beckham is up with the Rays and hitting pinch-hit homers now. Everyone wins!
Madison Bumgarner
Another weird one, in that we were just starting the Great Velocity Freakout of 2009/2010. Also, this was the headline when Bumgarner was called up:
Madison Bumgarner Called Up; Lincecum Injured
AHHHHH. I mean, that was serious freakout time. The debut went well enough, even if the velocity was still weirding us out:



His first career strikeout came on a two-seam metaphor to Kevin Correia.
The next season started ominously, with Andrew Baggarly reporting things weren't getting better:
Bumgarner was clocked at 94 mph last spring, when he struck out the Dodgers' Manny Ramirez. But his velocity dropped into the high 80s by June, and he hasn't recaptured the crackle on his fastball this spring.
It was never going to come together, it was never going to happen, everything was going to break while the Giants were looking for offense, nothing was going to work.
And then it worked.
Considering the weirdness of Bumgarner's call-up (young, brutal strikeout/velocity drop in Triple-A, Lincecum hurt) and Posey's first half-year (didn't play, Molina re-signed), it's been almost eight years since there's been a pure, prospect-feting moment of liquid anticipation like what Cubs fans are feeling with Bryant. Not jealous. Just nostalgic. I love that feeling. It's one of the very best parts of baseball, and I can't wait for the next one.
No pressure, Johneshwy. No pressure at all.