And now we get to the part that really took up a ton of my time: tables that look at success rates of minor leaguers based on nothing but their age at the time they first played in A and A+ ball. As I said in the first fanpost, this looks at every player (under the age of 24 or 25) who played in A and A+ levels between 1990 (the first year of the A+ designation) and 2006, or 2007 for A+. For A ball, I've made three groups which I consider young for the level (teens), age appropriate (20-21), and old for the level (22-23). For A+ I have the same three groups, but add one year on for the advancement, so young (20 and below), age appropriate (21-22) and old (23-24). Players older than that, I've included in the old group only if they made the major leagues (a pretty negligible group). I've separated hitters and pitchers, and for all groups I've categorized them as: Majors, >0 bWAR, >1 bWAR, >5 bWAR, >10 bWAR, and >20 bWAR.
So to start with the hitters (again, on my preview I can't seem to make these tables fit in the allowed space and they keep cutting off the avg WAR, which is a pretty important part of the table, but you should be able to double click on the image and see the whole thing):


Obviously, a pretty tremendous slide down the scale in every category as you proceed upwards thru the ages. To put it simply as you get older it's taking a much larger pool of players to produce much less value, so that at the very top end, the 20-23 folks are producing 34 >20 bWAR players out of a pool of over 5,500 players, while the teens are producing 44 out of 907. And the teens average WAR numbers (6.1, 11.9) dwarf the other two groups so completely that it's almost more than they're producing together (3.2 and 7.5 for the mid group, 2.1 and 5.2 for the older one).
To put a face on the numbers, here's the Top 20 for each of the age groups: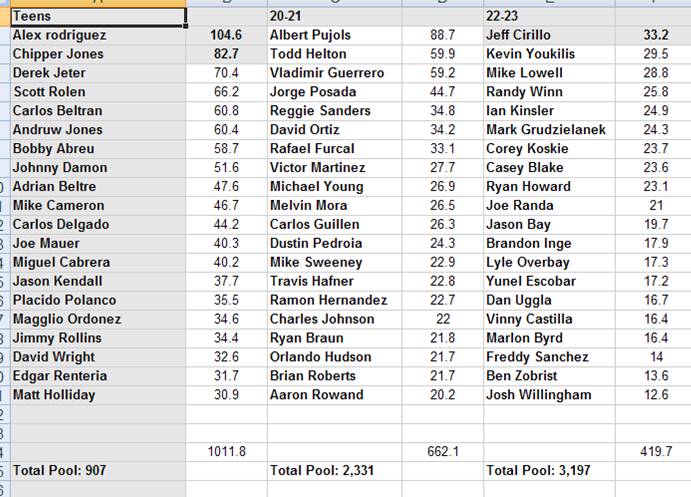 Note at the very top end the middle group has some very great players even HOF players, but it tends to thin down more quickly than the younger group (seriously, Aaron Rowand!) and in the end you've got only about 60% as much WAR created in this top group as in the young group, and it takes about 2.5x as many players to get that value. And in fact, if I went slightly further it would get even more dramatic as the teens group has Hanley Ramirez, Adrian Gonzalez, and Robby Cano all right at 29, ready to shove Edgar Renteria and anybody else who's not moving quickly enough of the chart, while the age appropriate group had Nick Markakis fairly close, and Tony Bats moving up quickly, but not much else going on. One thing that's interesting to me: if you look at top 5 of the age appropriate group, there's not particularly a standard development curve. Pujols shot thru the minors in a single season. Helton, a 2nd round pick out of college spent three years in the minors. Vlad Guerrero had 5 years in the minors (albeit only one after this one), Posada a 24th round pick was in the minors for 6 years (including two full seasons in AAA), and Reggie Sanders spent four years in the minors, during which time he repeated A ball, then skipped A+, and then leaped into the majors after a half season in AA.
Over at the "old for their level" group we see there's definitely some value to be had, though it takes an extremely large player pool to get that value. And there's two definite trends here that we'll see again in A+: Randy Winn represents the college two-sport star who comes out at 22 slightly behind in development but who quickly makes up for it. At A+ we'll see the king of that category, but behind Winn are many less successful versions like Fred Lewis and Chris Weinke. The other thing of course is that this category is really dominated by infielders. We'll see more of that later on, too. (Maybe good news for Adam Duvall fans?)



And now we have gotten to the point where the young group's average WAR is actually greater than the other two combined at 6.7 and 13.6. Not surprisingly, moving up to A+ both the young and the age appropriate groups see fairly substantial gains across the board, while the old group, true to their "prove it at each level" mantra returns almost exactly the same success rates. Again, it's pretty hard to overstate how much that young group is dominating, though, with one out every 10 players turning into a >10 bWAR major leaguer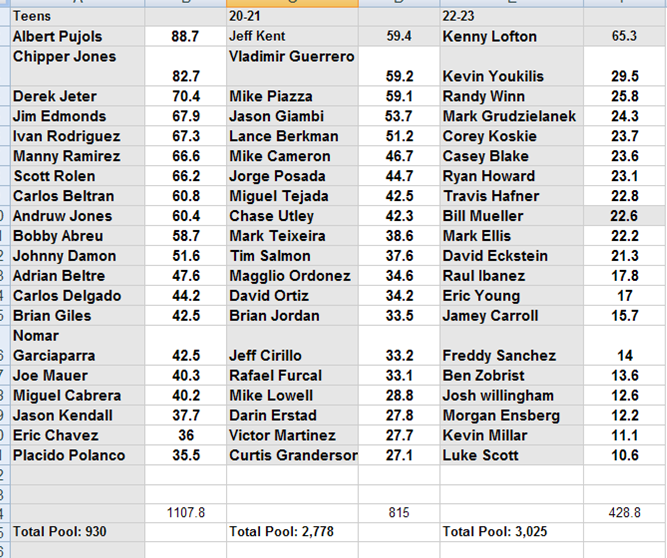 And not surprisingly with the move up to A+ the young group gets even stronger, adding Pujols (who of course was in both A ball and A+ in the same season, thus moving down a category, just as Jeff Cerillo did moving from the old to the age appropriate). They also add IRod and Jim Edmonds and that's really just an accident of my process. Both of those two were in A ball at 19, but in 1989, the year before my survey started. The age appropriate group of course adds several college draftees, like Chase Utley and Jeff Kent, as well as Mike Piazza, the greatest 62nd round pick in history.
And over in the old category we see even more of the scrappiest infielders who ever lived. Jamey Carroll, David Eckstein, Casey Blake, Bill Mueller: name your scrappy infielder and we've got 'em over here in our old for the level group. I'll pull a couple of theories about this out of butt. One, possibly since infielders don't have to cover ground like OF, pure athleticism becomes less important and slightly lesser athletes with exceptional baseball only related skills can succeed at higher levels (although could this also be why 2b and 3b tend to decline so early?). Or secondly, there's a greater shortage of infielders (both because it's so dang hard to play and because they get injured alot) which leads to more non-prospecty types getting a big league opportunity. If this theory were right it would imply that there are more minor leaguers who could be valuable major leaguers if they ever got the chance, a boon to Brock Bond lovers. At the top of list is of course, perhaps the greatest basketball player turned baseball player ever, the great underappreciated Kenny Lofton, who had by the way, one of the worst rookie ball seasons you'd want to see. He actually repeated short season rookie ball at 22 and didn't do a whole lot better, but in his third year (at A+) things clicked into place and he was on his way.
Now the pitchers: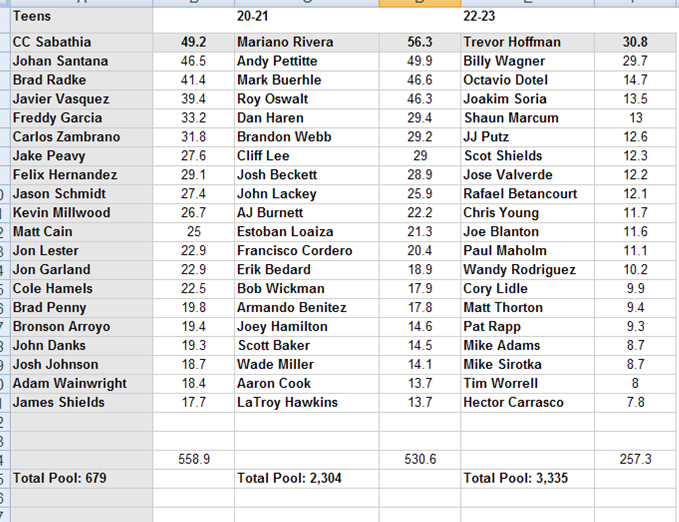 Here in A ball the teen pitchers once again show much higher rates at getting to the majors and being productive there, but at the highest level there's a lot of value to be found out of the age appropriate group (although it takes more than 3x the player pool as the teens to get to that value). With avg WAR of 3.2 and 8.1 we also see that this teenaged pitching group is again producing more avg value than the other two age groups combined. The older groups 0.9 avg WAR per major leaguer and 2.7 per >0 major leaguer is particulalry meagre. And I think we also see in the age appropriate group that even in the top 20 it's starting to slide into reliever and mid-rotation type arms, while just outside the top 20 teen group there are more ace (at least at their peak level) guys like Ubaldo, Kazmire, and Ervin Santana, although the ageless wonder Darren Oliver is actually #21).
The older group is giving us pretty much the pitcher equivalent of gritty infielders as it's really dominated by relief pitchers. At the top you have two pretty great ones, the first of whom is naturally a staple of this group, the failed infielder converted to pitcher.
And A+: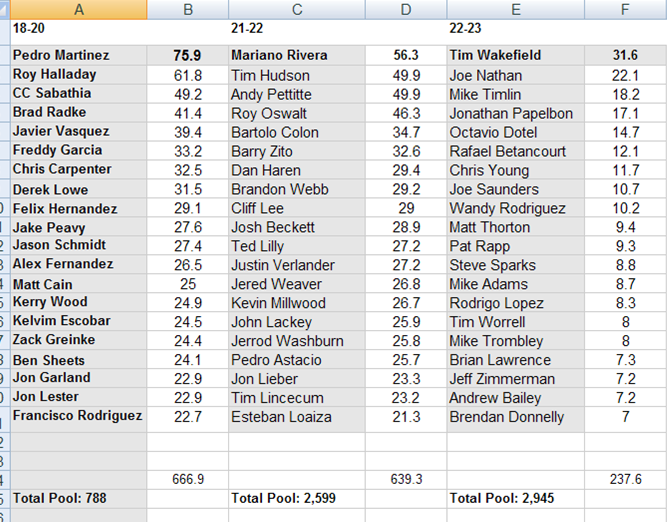 In this group the high draft pick college pitchers (Justin Verlander, Tim Lincecum) are making a significant difference for the age appropriate group, though it's still taking 3x the player pool to produce slightly less value, while the older group has added a few knuckleballers and a whole lot more relief pitchers. Noticeably neither of the two greatest members of the old group in A ball are here, as both Wagner and converted infield Trevor Hoffman took the express route and skipped past A+. With relievers it looks like it doesn't really matter how old they are, when it clicks they can fly. No wonder teams move strong armed SS to the mound at almost any age quite successfully. There's hope for Michael McBride and Jake Dunning and even Chris Dominguez yet!
So just a couple of last notes for those whose patience haven't been totally exhausted. First, looking through these thousands of player profiles I hope I've learned to be a little less judgemental, particularly concerning players who repeat levels. It's really amazing to see how common a path to a successful major league career repeating levels is. And of course, doing badly at low levels doesn't seem to be the worst thing ever either. For those who have dismissed RafRod, I'd suggest a look at minor league careers like David Ortiz, Magglio Ordonez, Grady Sizemore, Carlos Lee and the thoroughly astounding minor league career of Edgar Renteria (it's hard to know which is the more amazing: how young he was, how bad he was, or how aggressively he was promoted in spite of how bad he was). I also can't say how much I love the career of one Alberto Castillo, who's been pitching in the Orioles bullpen for four years now, after a minor league career of 15 seasons that included two different multi-year stints in Indy ball, and a comeback as an OF for the Tampa Bay system. Alberto, you get the perserverence award and I'm glad you're drawing a major league minimum salary!
I'd also say that from my personal observation, I don't see any magical predictor stats. Good walk rates are a good thing; good contact rates are a good thing, but whatever it is that separates the career of say Ryan Howard from that of say, Ruben Rivera or Andy Marte, I don't know that it's in the stat sheets. It's the ghost in the machine. My best guess is that if you had a Venn drawing of a hitting prospect, there would be three circles: one for patience, one for contact skills, and one for pitch recognition, and the more overlap that existed between those three circles the better the prospect would be. But at least at the A ball levels, I think fatal flaws in one of those circles can be camoflauged on the stat sheet.
And lastly, I found two modern day versions of Moonlight Graham! Joe Hietpas and Pedro Santana both played single innings in the major leagues without ever registering a major league PA, though each did manage to have a major league ball in their gloves. Santana fielded one chance cleanly at 2B, while Hietpas caught an inning, recording two putouts! I bet they both wish they could have hit a triple.