So with minor league rosters being announced, now seems a great time to revisit the much hashed topic of age vs. level, and with all due respects to Every 6th day, this is gonna be long. As some here may remember, a while back I had a post which briefly looked at the relative success ratios of teenagers and league leaders in the Sally, and came up with the conclusion that it was more important to be young than to be good in the lower levels. Ever since then Fla-Giant has been after me to take a similar look at pitchers, and I've had a few nagging desires to go back to the original post and expand and improve it. For one thing, I've always regretted that I didn't use WAR as a measurement, and I always wanted to include more leagues to get a truer picture (the Sally as it turns out has been a particularly rich source of productive major leaguers, due in no small part to the continued presence of the Braves as a participant). And for another, I quickly discovered that BRef's sorting (at least in it's major league data sets) is very unreliable. I hope this isn't also true of their major league Play Index, but at least on the minor league tables I've found literally hundreds of players missing. So if one looks, for instance (just grabbing one example) at the Sally in 1996 and sorting by age you'll find 13 players listed, including Adrian Beltre with 288 PA and Ovidio Frias with 208, but you won't see 19 year old Ben Petrick and his 531 PA or 19 year old Yohanny Valera with his 410 PA or about two dozen or so more.
With those doubts in my mind I went back and looked at every team roster in every A or A+ ball league between the years 1990-2006/2007 (1990 was the first year that the A+ designation existed so I started there, and then I added an extra year onto the A+ lists as it's a year further up the development ladder, although it should be noted that it took several years for organizations to get into the format that's typical today with one team in each level). Then I revisted the notion of whether it's better to be young than good for both position players and pitchers, in both A ball and A+ during the period. For hitters I put all teenagers up against the top 20 OPS in their league that year. For pitchers, I had a slightly more difficult time, but ended up referencing the teens against the top 20 ERA leaders and the top 20 K/9 in their league (I spent a good deal of time comparing k/9 to bb/9 and came to the conclusion that they produced very very similar numbers of major leaguers with k/9 having perhaps the slightest advantage; because there was such a huge overlap between the two categories it didn't seem worthwhile to look at both). Upon moving up to A+ I added one year onto the "teenagers" group, so that it became 20 and below. And then for all the groups I sorted them into the following categories: 1) Major leauguers; 2) Career bWAR >0; 3) Career bWAR >1; 4) Career bWAR >5; 5) Career bWAR >10; 6) Career bWAR >20.
Now I regarded this exercise merely as an interesting lens thru which to view minor league development, it goes without saying that it's a blunt instrument and particularly the arbitrary cutoff of 20 (which I chose in an attempt to get similar data samples, not simply because of my toes and fingers) was lacking in sophistication. And so I decided to go a level further and see what happens when I simply remove performance from the picture entirely. To do this I included nearly every player who had appeared in A or A+ ball during the period 1990-2006/7 and categorize them based on only one criteria: what age they were when they first played at that level. I used very limited minimum play time (50 PA for hitters, 20 IP for pitchers) to eliminate day trippers while still casting a wide net, and I created three categories of ages which I thought of as "young for the level"; "age appropriate" and "old for the level". In A ball, I grouped them as: teens, 20-21, and 22-23. There were, of course, players in debuted in A ball at 24 or even older, but as the vast vast majority of them failed to make the majors, I didn't see any use including them in the "old for the level" category because it just seemed like killing a corpse. So I only counted those 24+ players if they actually made the major leagues (because I like to reward persistence!). These age tables are going to be in a second Fanpost, so if you're more interested in them (and I admit I am), you can skip this and go straight to Part 2.
A few caveats. I unrepentently used BRef's season age as my guiding line with all the fuzzyness that that entails. Also, it's vital to note when looking at the age figures that they are being guided by selection bias: specifically the selection bias of each organization's player personnel people who believed that such and such 18 year old could handle the same assignment as such and such 23 year old. There's no causation implied in these numbers; they're simply a record of what has happened. Got it? So with that, on with the tables:
(For reasons I seem unable to control, in my preview all of these table pics are cutting off one or both of the avg WAR columns. But if you double click on any of them it should pop up in full). Perhaps I should just have inserted the thumbnails and let people open them fullsize on their own. Let me know if you have suggestions.
In all the A ball tables the first line is the Sally and the second is the MWL, while the bolded, shaded line is a combination of the two. The final two figures (hey, maybe headings would be good here!) are the average career WAR of all the players who made the majors, and then the average career WAR of all players who had positive production (WAR >0). And then the other thing to note is that the teens group again includes anybody who had 50 PA in A ball in a year throwing as wide a net as possible on the aggressive promotions, while the leaderboard is BRef's and includes only "qualifying" players, with the single exception that I capped the age of the leaders at 24 so as to rid myself of career minor leaguers slumming it at low levels (this came more into play at A+).
And the first thing we see here is that the numbers of my original post were not accurate. In part this is the BRef glitch, in part it's the changed parameters (top 20 as opposed to top 15, starting with 1990 rather than 1980) and in part it's due to the addition of the MWL where teens faired much much worse over these 17 years (only 39% made the majors!). Why was the MWL so much different from the Sally? Randomness explains much, I think, but at least part of it is the makeup of the organizations involved. The Sally has consistently had some of the very best player development orgs participating (Braves and Yankees leading the charge during these years) while the MWL had man of the very worst (Cubs, Cards, Pads, Pirates, early 90s Giants etc). And in part orgs were still working out their systems in the early 90s: some didn't have complex teams or rookie ball teams, others had two A but no A+ or two A+ but no A. And in part I think there's just been a general improvement in understanding of player development during this period (maybe the HS showcase leagues and things like the CCL helping the process). In general I found throughout all the leagues that the numbers sagged in the early 90s and picked up around the turn of the century.
But generally what we're seeing here is that in A ball league leaders are getting to the majors at about a 4% better clip, but as you move up the WAR categories the teenagers gradually catch up, and at the high end up production the teens are delivering the real impact value (as you can tell by the advantage in average WAR, particularly the >0 WAR, which is being pulled up by the very top guys).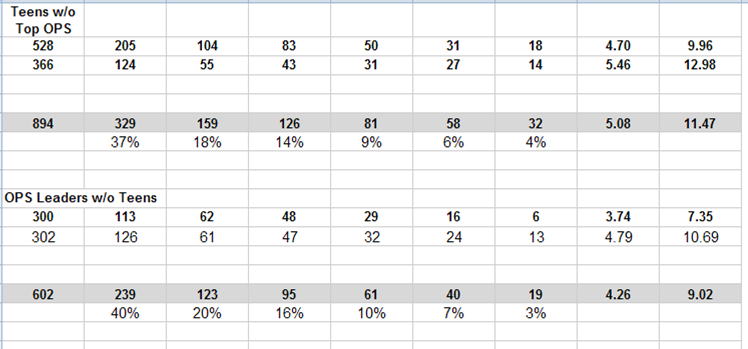 Taking out the group that overlaps (the teen leaders) leaves you in this case with a very similar story at slightly suppressed rates (so my previous assertion that being young was more important than being good seems to have been overstated), with the leaderboards producing more of the low end and middle productive major leaguers and the kids catching and surpassing at the highest end, producing a substantial 10.7 to 9.0 average WAR advantage. Being promoted aggressively certainly gives the benefit of time to develop but it looks like we're seeing an equal amount of valuable major leaguers coming out of the leader board, non-teen division.
And then the final group, the teens who were in their leagues top 20 OPS is something akin to pure uber-prospect:
Not only do nearly all of these players make the big leagues, but nearly half give you 5 WAR, a third reach 10 WAR and a pretty astonishing one in five attain the super star >20 level. As group these teen leaders are so impressive that even if you take ARod's incomprehensible 104.6 career WAR out of the picture, they're still producing an average of 10.2 WAR, or 14.9 career WAR for players above 0. Wow.
Taking it up a level to A+ (where the young group becomes players 20 and under):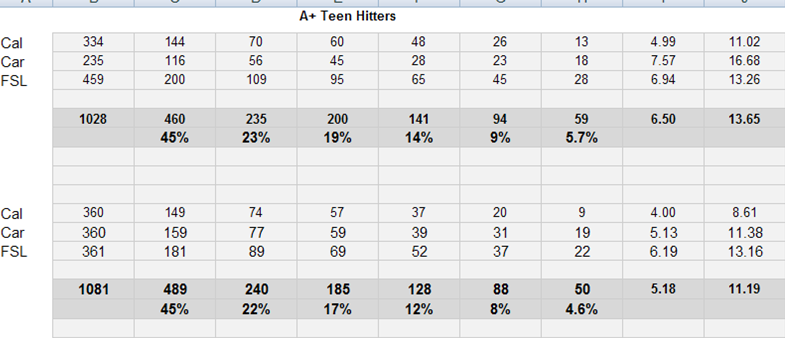 So at the high A level the young group has made some strides and caught and surpassed the leaderboard folk every category, with a corresponding leap up in avg WAR as the Ydwin Villegases of the world get weeded out. Again, there's no particular difference that I can see in the two groups when you remove the teen leader subset. And again, the subset group is pretty much prospect liquid gold. However, one interesting thing about this last table is that the A+ young leaders are actually just slightly underperforming their A ball colleagues and if you want to put your finger on the culprits, look no further than the California League line. Amazingly, out of 13 >20 WAR players that came out of the young group in this league, only 1 was in the leaderboard group. And moving down a category we see the same thing, only 4 out of 26 >10 players were in the Cal League leaderboard. In part, I think this is a combination of the problem of my arbitrary cutoffs and the fact that the Cal league really has tended to see a lot of career minor leaguer types (though I capped A+ as well at age 25) that push younger players down further. But I think it's worth thinking about further whether the Cal league's extreme offensive environment artificially inflates power numbers and makes some of these guys look better than they really are (which is a big part of our ongoing Tommy Joseph debate).
Ok, now for pitchers, where things get really confusing.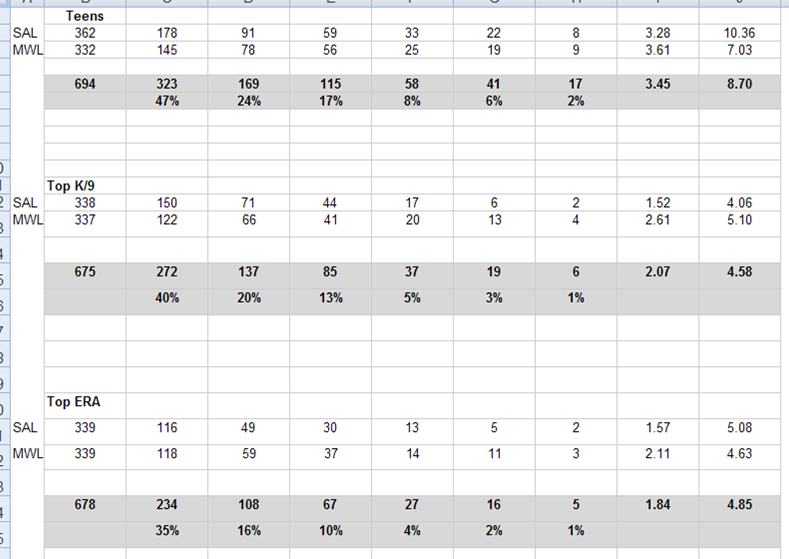 So the first thing that these tables seem to indicate is that I can't count to 20 with any reliability, which is somewhat concerning. But beyond that what we see is that the young pitchers enjoy a clear superiority over their leaderboard contemporaries in these two categories (and that ERA suffers a bit in comparison to K9 as a predictor, as we might have surmised). Beyond that, comparing the A ball pitchers to their hitting contemporaries, what we see is that young pitchers make it to the majors in larger numbers, but fail to produce in the majors at much larger rates. And of course, they are on average producing much less WAR. The amount of major league pitchers with negative WAR is pretty amazing, and the vast majority of these guys are relievers who fail to stick.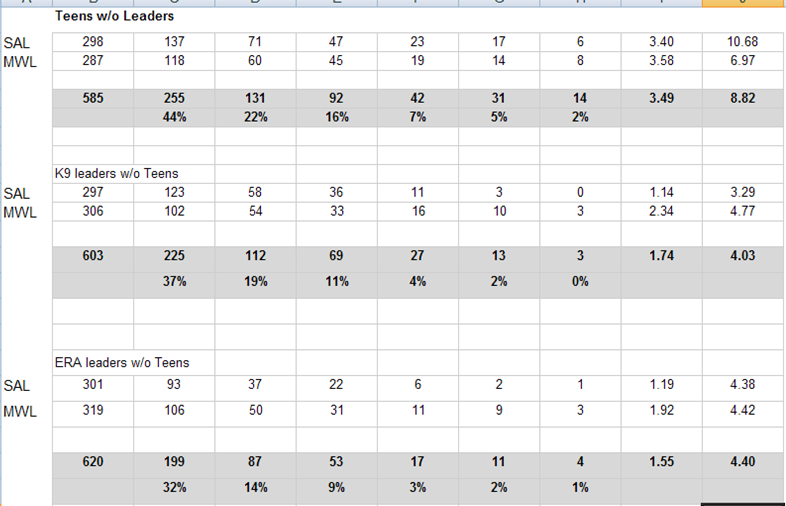 What's interesting here (to me) is that, in a pretty pure illustration of TINSTAAP, the teen group without the leaders actually slightly outperforms the teen leaders in stark contrast to what we saw in the hitter category. The teen leaders do become major leaguers at a much higher rate, but their flameout rates are incredibly high, and at the top end of the chart the non-leaders are showing a higher avg WAR.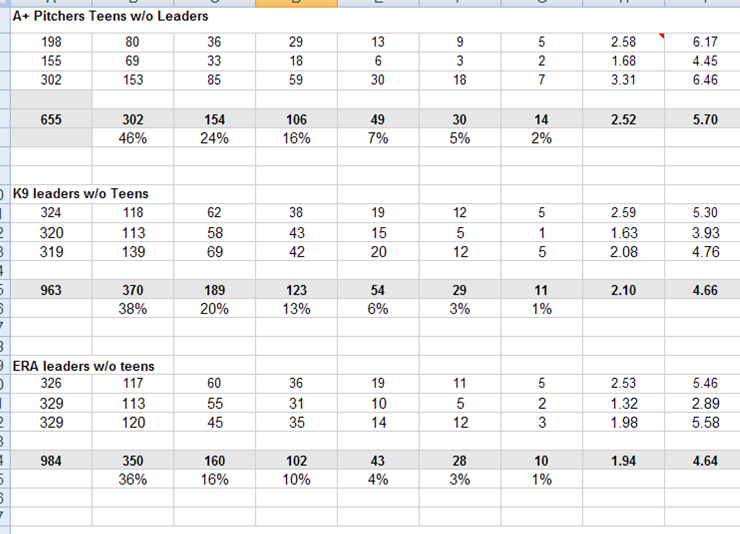 And in A+ we see a general uptick in all the success rates across categories (normal as players get closer to the majors) and we also see that the best teen pitchers are starting to perform well as about half of the pitchers who went on to produce >10 and 20 WAR showed up near the top of at least one of these two categories in their league. But even so, there's just no comparison between the pitchers and the position players here. The hitters are producing good major leaguers at much higher frequencies.
Ok. I'm going to stop at this point and go on to the next Fanpost with the age charts. Feel free to comment or question anything you see.