Having looked at just how productive the Top Prospects were, the next logical step was to cross-check against the Active Career WAR leaders to see how many really productive players were missed in these Top 100 lists.  I did this incrementally, so I'll just throw a couple of charts in here at this point: Active players with career WAR above 50 and above 30, and above 20, separated into groups of Top 2, Top 10, Top 20, Top 50, Top 100 and Unranked.  I'll cop to a minor intrusion here: there were two active players last year with career WAR >30 who predated BA's Top 100 list: Ken Griffey, Jr. and Jamie Moyer and I handled them in two separate ways. Moyer I simply took out of the equation, because although I know he was a decently heralded prospect with the Cubs I have no good guess whether he would have been a Top 100 prospect.  But Junior I included in the Top 2 list, because, being a reader of BA in the late 80s I'm satisfied that they did consider him the #1 prospect in baseball without a doubt.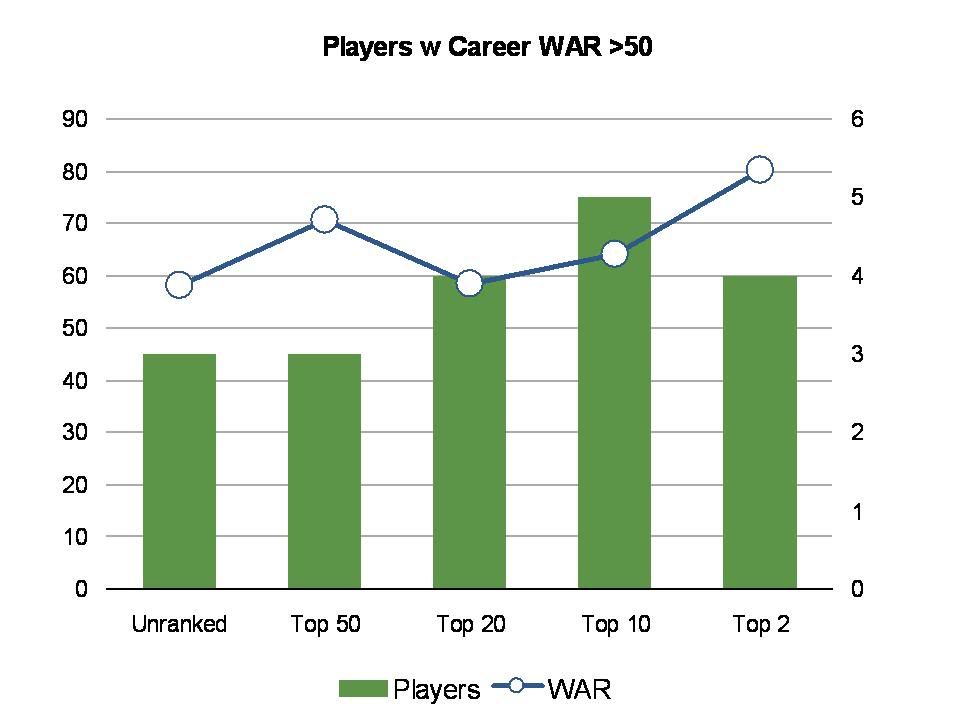 ">">
">
There are 19 players with career WARs over 50, and 3 of them (Jim Edmonds, Mariano Rivera, Jason Giambi) were never on a Top 100 prospect list (though ironically Jeremy Giambi was).  Down a notch to >30 and you get a similar percentage of players from the Top 100 (45 out of 55). And, for the most part, all of these lists show a steady upwards progression of average WAR as you move through the lists from Unranked to Top 2 (with one notable exception I'll get to in a minute).
It's really not until you get down to the 10-19 WAR range and even more so at 5-10 range that you see a real incursion of Unranked prospects as you can see here: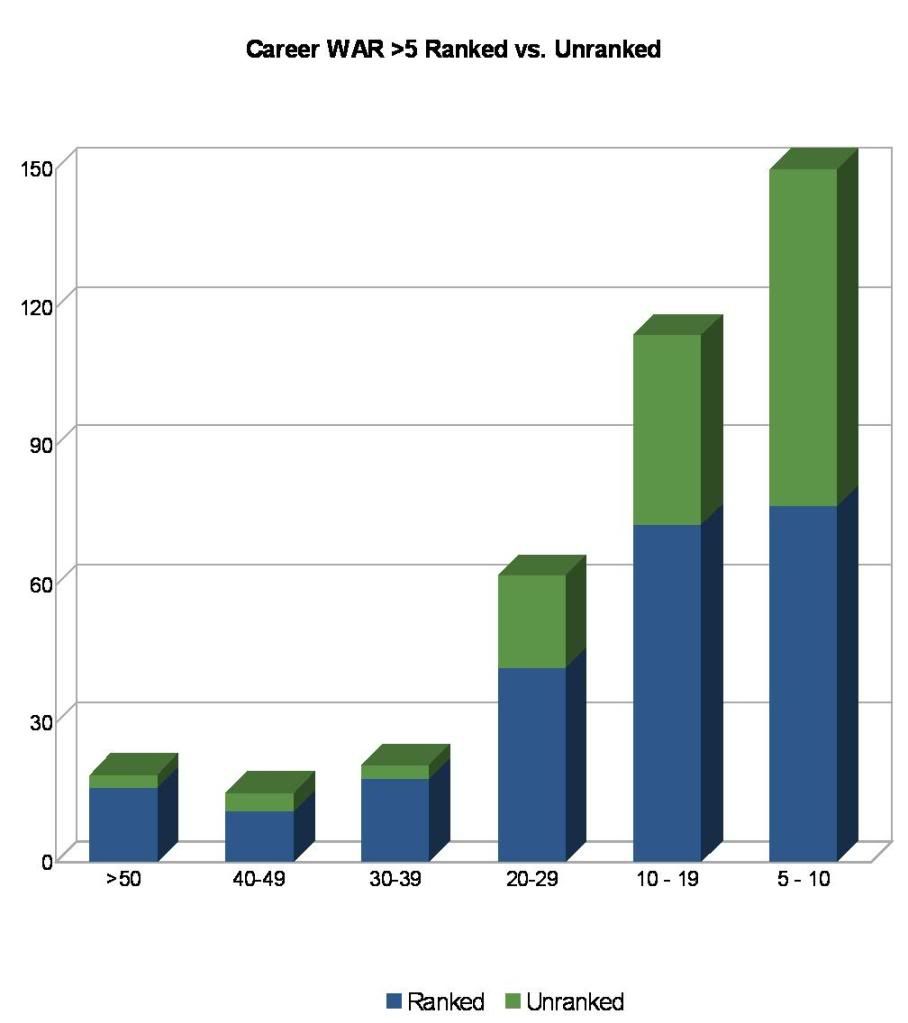 ">
or with even more of a breakdown here:
">
So, it's in the very solid 5-20 range that the middling prospects make their major league marks.  One thing we see immediately here is the inverse TINSTAAP principal. Tthe list of Unranked prospects who appear high on the Career WAR lists is littered with slightly less heralded pitchers from the great Mariano Rivera and Trevor Hoffman, to the very very good Tim Hudson and Mark Buehrle.  In fact, as an aside, for people who insist that you don't need great stuff to be a successful major league pitcher, the Chicago White Sox staff is your mecca.  They field a starting 5 with poor K rates, mediocre BB rates, and unimpressive GB rates who still seem to regularly enjoy a great deal of success.  I'd say that Buehrle's 42.60 and John Danks 17.20 were probably the two most shocking numbers I saw in all this digging (well, there's Darren Oliver's 16.1, too, but I'll get to that in a minute). 
Second, less dramatically but still I think quite perceptible, these lists do clearly point to an undervaluation of patience as a major league tool by the scouting community.  Looking at the Unranked players at the the Career WAR >30 lists we see Jim Edmonds, Jason Giambi, Jorge Posada, and Placido Polanco, and moving over one column to players who were clearly underrated in the bottom half of Top 100 we find guys like Chase Utley (#81 prospect), David Ortiz (#84), Jim Thome (#51), Bobby Abreu (#38), and of course, the great Albert Pujols (#42), all players who showed advanced plate discipline as minor leaguers and all players who have outpaced the scouting consensus of their tools by, as Grant so rightly put it last year, not swinging at crap.   An apologist for BA and the scouting community might note that had the Cardinals found any live body that could stand near 3B in spring training of 2001, Pujols would no doubt have had the opportunity to leap up into the top 10 with another great year.  But really, the scouting community had two chances to get it right with the greatest hitter of his generation and they whiffed pretty significantly both times, first with his 13th round draft placement, and second with his #42 prospect ranking after destroying two levels of A ball in his only minor league season. 
Essentially, if you have a career WAR above 25 and you weren't a Top 100 prospect you can be grouped into one of three categories: 1) the volatility of pitching prospects; 2) the undervaluation of patience; or 3) you're Omar Vizquel.
But one really interesting question, for me that comes from looking at that group of Unranked prospects between 5-10 career WAR is the role played by relievers, and specifically middle relievers.  Relief pitchers are the driving force behind the rise of the Unranked players in the last two columsn, going from about a third of the 10-19 group to well over half of the 5-10.  38 of the 90 Unranked players in the 5-10 group are relief pitchers, and 31 of them are middle relievers.  In fact, of the 159 active players who have a career WAR above 5, a pretty astonishing 48 of them are relief pitchers and 41 are middle relievers (Darren Oliver, 16.1 career WAR -- who knew!).  And while most closers in the majors were minor league starters, there are plenty of guys on this list with no starting experience in the minors at all (e.g., David Riske, Mike Adams, Jose Valverde) or very minimal (Brian Wilson, Brendan Donnelly).
This really begs the question of whether prospects who are relief pitchers are undervalued, and frankly I'll leave it as an unanswered question.  Yes there's a lot of value in this area from middle relief, but middle relievers also make up the lion's share of all those Negative WAR categories above, and the great unranked of middle relief throughout the majors is also mostly a pretty motley, <0 group.  If you figure there are somewhere above 200 roster positions in the majors for relief pitchers, and further consider that most of these relievers have taken 5-10 years aggregating their WAR, then some thousand or thousands have tried to do what these 48 guys have achieved, so the flameout ratio is particularly high.  Also, from having spent time looking at all these careers, I'd say that the relievers as a group take the longest and most circuitous development curves, frequently going through several organizations before catching on, some formerly high ranked prospects who blew out there arms (like Matt Thorton and Scott Linebrink), others guys who marched up their systems in anonymity and made the best of their opportunity when it came (Brad Ziegler or Jason Frasor or Kevin Gregg).
Still my takeaway is that I undervalued, say Sergio Romo simply because he was a minor league reliever and it's pretty clear to  me that there's solid production to be gained there that I at least haven't been valuing highly enough.  And it's clear to see why the middle relief market has exploded at the MLB FA level -- club's are rightly seeing that this is an area of tremendous scarcity that can give a real competitve advantage production.  Whether or not it turns out to be a good contract, someone like Matt Guerrier whose been a little better than a 1 Win player every year in his career is scarce commodity.  And conversely it will be interesting to see if the Rays and Twins choice to not pay these guys and take the comp picks is a gamble that hurts their chances in 2011. The vast majority of middle relievers provide negative value over the long haul, which is why I suppose the relief market is going through the roof.  There's such a scarcity at the position that when you find a  Dan Wheeler (6.6), Joaquin Benoit (8.1), Jason Frasor (5.8), Scott Downs (8.4), Matt Thorton (9.5), Matt Guerrier (6.8), or even Jeremy Affeldt (6.7), you hold onto them for dear life (or collect the comp picks and smile).
And then there's one further breakdown I'd like to make. I've used the term "Unranked" pretty liberally, and that term is naturally lazy and incorrect.  There's no "Here be monsters" sign after the 100th prospect of course. This group of "Unranked" includes lots of guys who were at or near the top of their team's rankings, like Robinson Cano (#2 prospect in the Yankees system in 2005) or Dan Haren (#1 propsect for the Cardinals) who fell just a little outside the Top 100 (which tends to include the top 1-6 players in each organization depedngin on their relative strength of system).  So just to give us a better feel for what the chances are for the lesser profiled prospects, here's one last breakdown that differentiates the Unranked into an Organization's Top 5, Org Top 10, and beyond that.
">
So at this point you're looking at 62 players out of 400 with career WAR over 5 who came from outside even their organization's top 10s (159 out of 400 were not Top 100 prospects).  The highest of them is, perhaps not surprisingly, the ageless knuckleballer Tim Wakefield (32.20). Only 5 other players from lower than their org's top 10 have managed to accumulate 20 career WAR: Melvin Mora (27.4), Kevin Millwood (24.2), Casey Blake (23.1), Chone Figgins (22.4), and David Eckstein (21.4 -- which just goes to show you that all those intangibles of his that "don't show up in the numbers" really do!).
So that's 6 guys out of 400 who've gotten to the 20 WAR plateau which is a heck of a career.  But in the perfectly productive <20 range there are some real fabulous stories. Casey McGehee was not only never in a Top 30, he was frnakly a pretty terrible minor league player.  Aaron Harang, as far as I can tell was never in a Top 30, nor was David Ross.  Randy Wells was the #22 player in the Blue Jays system, but then released and picked up by the Cubs, where in the 2007 Prospect Handbook he was listed 13th on the depth chart for RH Relievers in the system (the 3rd guy in that list was the #29 prospect).
And off course, all those players who were Organizational Top 5 prospects didn't just march lockstep into the majors and take their rightful place as slightly overachieving and productive major leaguers.  There were a lot of long and winding roads, and because following some of those roads was my favorite part of this whole process, I'll end by just enumerating a few of my favorites:
Andres Torres, #6 prospect for Detroit in 2001 and 2002.  We know the rest of his story pretty well.
Ramon Ramirez was once an OF prospect for Texas in the DSL, and after being released was out of baseball for 4 years before surfacing as a pitcher in the Japan for the Hiroshima Karp. Spotted by the Yankees he rose to be their #5 prospect as a hard throwing starter. The next year he was their #23 prospect as a hard throwing reliever, and then he was traded for Shawn Chacon, Jorge de la Rossa, and Coco Crisp before finally making his way to our World Series bullpen.
Casey Blake was 25 when he made the majors with Toronto, but it took 4 more years and 4 more organizations before he ever got more than 25 PA in a season. Once he did, at the age of 29, he made them count.
Denard Span was Minnesota's #5 prospect the winter after they drafted him in the first round, thinking he was a polished college hitter.  He then proceeded to go backwards in the rankings for 5 straight years as he underperformed, until, when finally making the show, a polished hitter emerged after all.
Matt Diaz was waived by terrible Tampa Bay and Baltimore organizations, and given away by the Royals before turning into a pretty productive player in his late 20s.
And lastly, given the news of his re-signing with the Cards, let's say a cheer for the remarkable career of one Jim Edmonds. Drafted out of High School in the 7th round of the 1988 draft, he started his pro career hitting .221 and slugging .254 in rookie ball. And he followed that up with a .261/.313/.337 year at age 19.  Four more minor league years followed in which he got better and better, showing good plate discipline and an improving bat, and even a little power. Finally at age 23 he snuck into the Angels Top 10 as their #9 prospect, and later that year he began a career that has so far accumulated 68.3 WAR and a 132 OPS+.  I wouldn't be at all surprised to see him climb over 70 this year.
If all the proceeding were one of Xanthan's heat maps, than the Top 20 prospects would be a huge dark red blotch in the center soaking up most of the WAR, and the Top 100 would be lighter red around the periphery.  But these white blotches are really where all the best stories are and where you can find a decent amount of exceptional 5-20 WAR careers.