As we wrap up our prospect lists and look forward to Spring Training, this seems like as good a time as any to set down the results of a project that's been taking up an unholy percentage of my time of late.
At the start of the 2010 playoffs, I read a short, legitimately self-congratulatory note from one of the editors at BA, noting that 60 of the 200 players on the eight playoff rosters were former #1 players on BA organizational lists, and 91 had been ranked in an organization's Top 3.  These players comprised nearly all the starting pitchers and a solid majority of starting players in the playoff lineups. The notion that nearly half of all the players in the post-season had, essentially, been uber-prospects surprised me and got its hooks into me a bit. Looking into things a little further, I noticed that not only were the rosters studded with these super prospects, but even the players getting cast aside (Barry Zito, Jose Guillen, Dioner Navarro) or left on DLs (Jair Jurrjens, Justin Morneau, Chipper Jones) were former members of BA's Top 100 prospects list as well.
Well, step by step I found myself falling down a prospect rabbit hole.  I spot checked the All Star Game (80% of last year's All Stars were former Top 100 prospects, including all but 3 of the games starters; about half were top 20 and a quarter were Top 10). Then I moved on to scouring all team rosters for 2010 checking to see how many former top prospects were active in MLB last year. What I found: in 2010, not counting September callups there were 144 former Top 20 prospects, 91 former Top 10s, and 14 former #1 prospects from BA's Top 100 lists, which BA started compiling in 1990.  Not knowing whether this was a lot or a little, I went through all of those lists, and found to my surprise, that there had only been 287 Top 20, 155 Top 10, and 19 #1s in the 21 year history of the BA Top 100. 
Which meant, quick math, that half of all the Top 20s, nearly 60% of all the Top 10s, and 75% of all the #1s were active LAST YEAR!  And backing up a step, I found that about 30% of all members of the 21 year history of the Top 100 lists were also active last year.  These numbers were all much higher than I would have guessed. Prospects from 15-20 years ago were still enjoying big league careers; prospects from last year and the year before were in the bigs already.
That's when I went pretty much whole hog, running down as best I could the story on every Top Prospect in BA's history, cross-checked against their plebian counterparts, all in an effort to find out, as best I could, what being a Top Prospect really means.  My measure in all cases was the player's career WAR as per B-Ref.  Herewith, some of the things I found out:
Just for fun, I'll start with plotting the career WAR of all the #1s and 2s:
">
So here I think we have a pretty good visual summation of what most of us feel to be true of prospects -- you're going to miss more often than hit, but the potential to hit huge is extraordinary, as 4 of the 19 #1s have already put up career WARs over 40, and two more will almost certainly sail past 40 in 2011.  The complete list:
Steve Avery (11.3)
Todd van Poppel (-2.1)
Brien Taylor (0)
Chipper Jones (80.1)
Cliff Floyd (27.3)
Alex Rodriguez (101.9)
Andruw Jones (59.9)
Ben Grieve (6.7)
J.D. Drew (46.8)
Rick Ankiel (8.1, though I added together his pitcher WAR and hitter WAR to arrive at this value)
Josh Hamilton (15.7)
Josh Beckett (22.7)
Mark Teixeira (36.7)
Joe Mauer (38.7)
Delmon Young (-1)
Daisuke Matsuzaka (9.8)
Jay Bruce (4.9)
Matt Wieters (3.7)
Jason Heyward (4.4)
On the #2 line the spikes are Chipper Jones again, Vladimir Guerrero (59.2, he and Andruw Jones are thus far, the greatest 1&2 combo by far), Paul Konerko at 22, and then two youngins, King Felix with 24.2 and Evan Longoria at 18.1
Of course, that's not much of a sample, so next I looked at the career WAR of all the players ever listed in BA's Top 10s, Top 20s, and Top 100s, separated out into categories of progressive production. 
Obviously, there's no way around the fact that these are all moving targets, since so many of these guys are active.  But to avoid counting Jesus Montero as a guy who never played in the majors, and making Jason Heyward mix in with Rey Ordonez, I cut these charts off at 2006. So by way of Giant's reference, that means Matt Cain is included in these numbers, but not Tim Lincecum.  The Top 10 in 2006 was Young, Justin Upton, Wood, Hermida, Drew, Liriano, Billingsly, Verlander, Milledge, and Cain, which struck me as a decent compromise between seeing enough of an outline of career paths and just having too little information to learn anything.  In the case of the Top 10 players, this left me with a total of 127 players.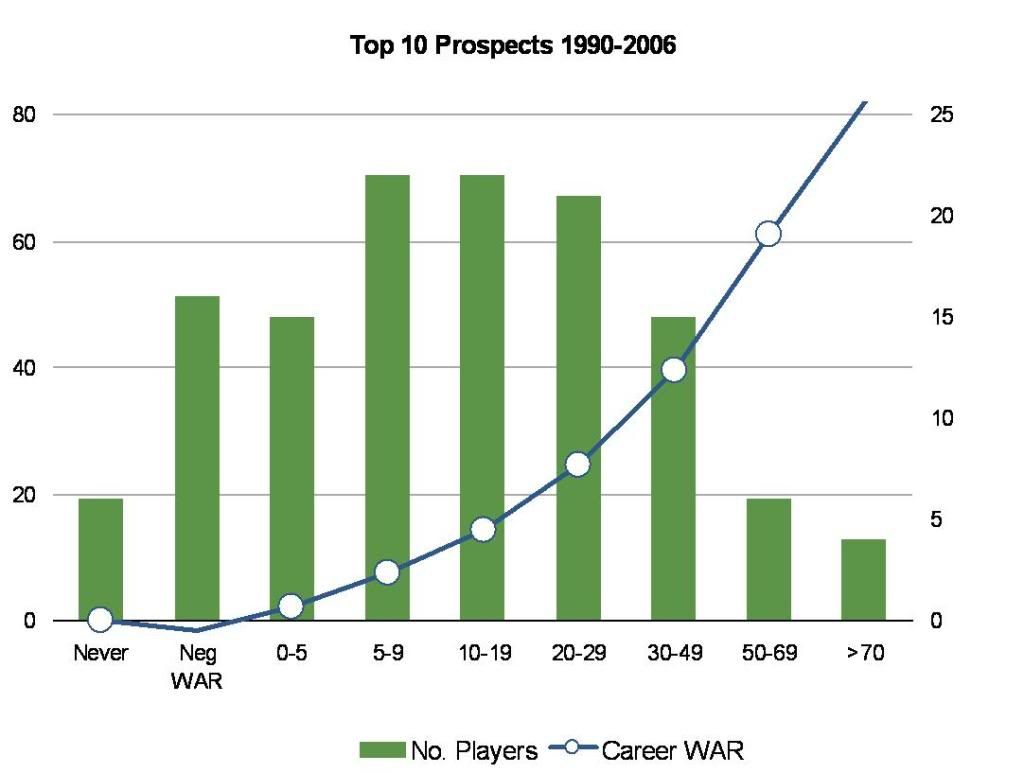 ">
So the numbers on the left hand side are Career WAR and on the righthand side number of players.  And the thing that really surprised me here was just how good the production ultimately was.  This chart includes 127 prospects: 6 of them never played in the majors and a further 16 produced negative value once they got there (hey, Mark Lewis!).   But 10 have career WAR over 50 and 25 are over 30.  And most importantly, the most common outcomes lie in the middle where very solid to outstanding players live, from 5-29 career WAR.  Those three categories accounted for just over half of all Top 10 players (65 out of 128).   Over half of all these players (68, or 54%) have had careers of over 10 WAR, and there are 9 more currently in the 5-10 range who I expect will make it over 10 before the end of their careers -- guys like Justin Upton (8,4), Rickie Weeks (7.9) Gavin Floyd (9.2), and Brandon Phillips (5.1).  If Hank Blalock could throw one more decent season out there he could slip over, too, but I'd say that's not too likely at this point.  Still we're looking at somewhere in the area of 60% of all Top 10s producing over 10 Career WAR.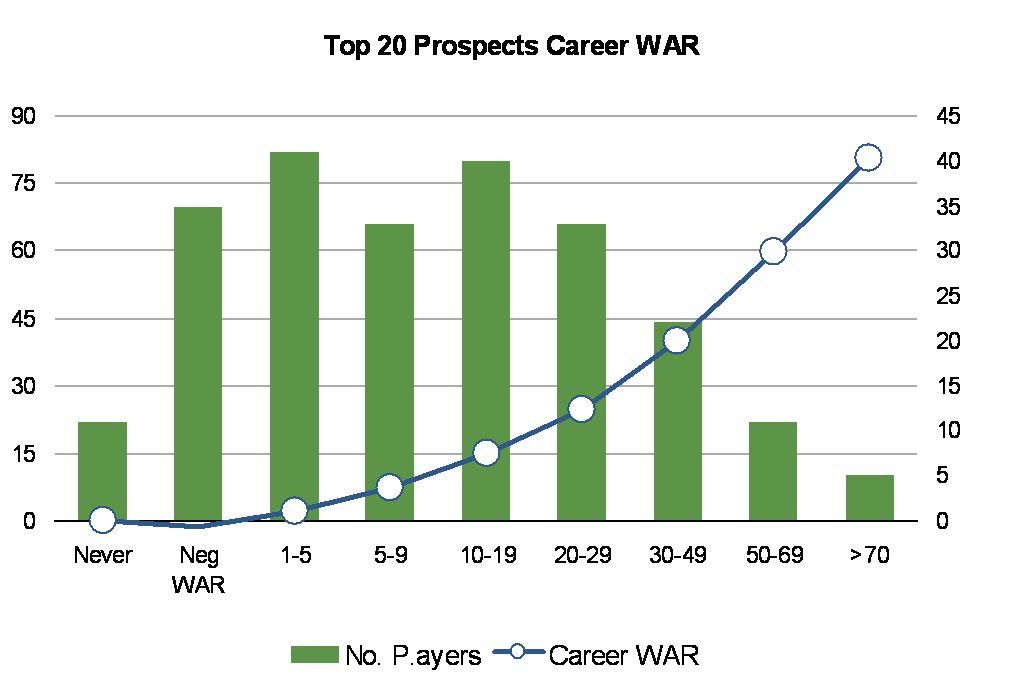 ">
For the most part, this pattern still holds true for all the Top 20s, though there's a pretty big leap by the 0-5 career WAR players at this point (up from 12% of the whole to 18%), the chart is still mostly dominated by the middle outcomes, which still account for 45% of all the players, while the upper echlon groups, >30 WAR suffer only a slight decline from 20% of the whole to 17%.  This is now a sample group of 232 players.  At this point still 50% of all the players have produced career WAR >10, and 65% have produced career WAR >5.  And again, some of the younger players can be expected to move into higher brackets as their careers take shape. J.J. Hardy for instance, currently sits at 9.9 WAR and Michael Cuddyer at 7.5, while a couple of these careers are really still just starting out -- Ian Stewart for instance.
">
By the time we arrive at the Top 100, predictably the lower outcomes really start to take over the chart. So for instance, the top two columns here, the >50 groups, added only 10 members to their ranks, going from 16 to 26, while the bottom two, the Less Than Zero bunch, zoomed up from 46 to 282!  Still even at this level, just less than 40% of all the players have accumulated >10 Career WAR, and 67% are above 5.
The other thing I'd note about this group, is that that huge swath of Negative WAR players does not solely represent washouts or 4A guys.  Yes those types are reasonably well represented, but I have to say it's astonishing how many of these are players who had long major league careers, 6, 8, even 10+ years, all the while accumulating by tiny increments more and more negative value, like Jacob Marley forging his chains for the afterlife.  The vast majority of those players were 1) middle relievers, 2) middle infielders, and 3) catchers.  And as long as I'm pointing this out, it's worth a mention here that Neifi Perez did NOT finish with a negative career WAR by BRef's measurements, clocking in at a solid +0.1. Heck Enrique Wilson managed a -4.5, and at least by this standard the clear standard bearer for horrible major leaguer has to be Juan Castro (NOT a top 100 prospect) who is currently working on a
-10.4 career WAR that is more than twice as awful as any other active player. 
In the end, of the 273 Top 100 prospects between 1990-2006 who have produced 0 or negative career WAR, ONE THIRD (90) had careers that stretched out over at least 6 seasons (and there are many more who are still active and might well end up with that kind of career).  The majority of those played in over 500 games or pitched in over 75.  Which I guess means that these prospects lists have not only produced the majority of great and good players over the last 20 years, but probably also the the majority of really bad ones (as it's probably the same tools which caught scouts eyes in the first place that keep getting them jobs on major league rosters after several years of sub-productive play).
But I digress.  The next step, of course, was to cross-check these prospect lists against allt he non-prospects, to see how many great, good and decent major leaguers were NOT Top 100 prospects.  But as this has gotten pretty long already, I think i'll save that data for a second post if people are interested.
But before ending this I will make a couple of other observations.  First and foremost is the logic of TINSTAAP. There's a definite seeable difference between the fates of the uber prospects and their uber pitching prospects brethren.  Just looking at the #1 and 2 chart at the top, it's noticeable that the highest mark for any of the pitchers comes, amazingly enough, from 24 year old Felix Hernandez at 24.2, having zipped past Josh Beckett last year.  In all the average career WAR of all the pitchers in the Top 2 spots has been 9.7, while the average for the position players has been 24.3 (and hey way to bring that curve down Delmon!).
Of the 976 players listed on Top 100 Prospects lists between 1990 and 2006, only 12 pitchers managed career WARs as high as 30 (Kevin Appier, Mike Mussina, Pedro Martinez, Derek Lowe, Andy Petitte, Bartolo Colon, Roy Halladay, Javier Vasquez, Barry Zito, C.C. Sabathia, Roy Oswalt, Carlos Zambrano) as opposed to 54 position players. Only 23 others even made it to 20 WAR (a list that includes Matt Cain, and soon, Tim Lincecum!) compared to 43 of their position player contemporaries.  Of course, part of this has to do with position player's increased opportunity to pile up WAR, but it also points at the relatively spottier success ratio of the pitching prospects (who litter the Neg WAR category).  One more snapshot: 9 of the 11 Top 20 prospects who have never appeared in the major leagues were pitchers.
And lastly, of course, all of these numbers will look better 15 or 20 years from now when all these careers are finished.  The players who are populating the Neg War and 0-5 categories have a tendency to get to where they're going pretty quickly, since they're landing in such a narrow field.  Sure some of the guys currently at 0.2 will flip to negative and vice versa, but essentially, the players who are going to move the needle in all this are the one's with the upward mobility. In just 2011 we're likely to see Evan Longoria and Tim Lincecum, and maybe Josh Hamilton move out of the Teens range past 20 career WAR, while Hanley Ramirez  and Adam Dunn plow past 30, perhaps taking King Felix with them. Mauer and Texiera and Utley and will plow past 40 WAR, Damon will flirt with 50, Jones and Vlad and Abreu with 60, Manny with 70.  Heck, with any luck Delmon Young and Homer Bailey might even pass 0 and head into the positive.   Inevitably, these numbers will all look better in time.