I've wanted to draw something Giants related for a while and finally stopped being lazy this week and did so. I thought it would be fun to try and draw a manga-style cover featuring some Giants players. I normally draw digitally, but I wanted to do it all old-school style this time: just pencil and ink on paper. I had a mini-survey earlier in the week to see who people would like to see in the picture and got a good group of players to draw. I pared the list down to Lincecum, Cain, Posey, Wilson, and Huff. After some sketches and research, I got to work.
First, I did a sketch to try to nail down the style. I usually do my sketches on scratch paper because it's readily available, and I'm cheap. (I have a new scanner, so the quality for some of these is kind of crappy as I haven't figured out all of the settings yet.)
Not the best, but I was on my way. Next I did a sketch for the layout and all of the players.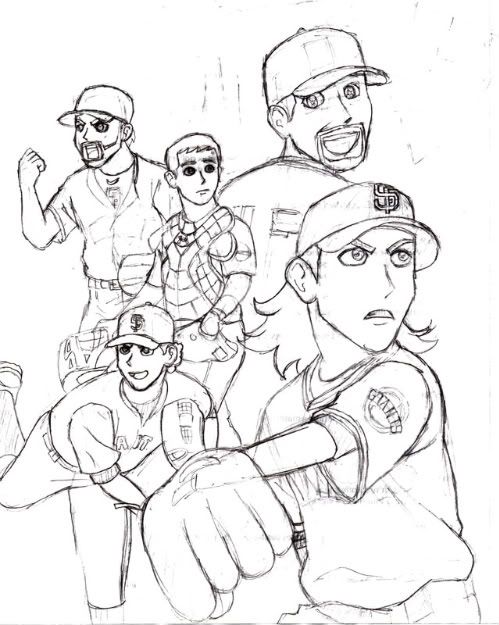 Once I was reasonably satisfied with the layout, I transferred the sketch in light pencil to nicer Bristol paper by tracing over a light desk. It's here that I really tighten the details and refine the outlines. Then it's time to ink. This is what my workstation looks like:
My desk tends to get into disarray when I'm working on something, especially when I have a lot of pens out. In case you're curious, I use Sakura Pigma micron pens. They come in a variety of tip sizes, and the ink flows nicely. Here's a straight up view of the half-inked page:
I worked until I got it to a point where I felt like it was good enough to share. It's not done yet, but it's getting close to it:
There are some blacks to fill in and some touch up to do, but it's almost there. I'll also be coloring it once I'm finished, although I'll be doing that part digitally. I'm pretty happy with the way Lincecum and Cain turned out. I was "in thezone" when I was working on them. I wassn't sure whether to have Posey hitting or playing his position. I decided on drawing him in his catcher's gear to get some variety in the uniforms. Figuring out what Huff and Wilson would be doing took longer. I just did what came naturally. More to come soon.
Update: Here is the final inked version. Color to come sometime soon.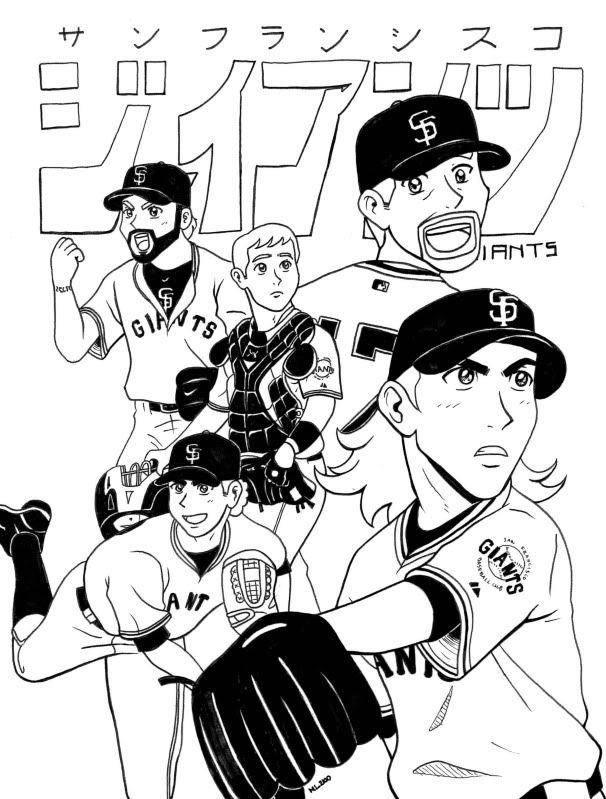 Update again: Aaaaand finally with color