It starts innocently enough. A strapping, wide-eyed country boy from the Wiregrass region of Alabama signs with a big-city team out West. The minors are fun, and mostly the guys you hang out with are like you: simple, focused on baseball, just happy to be there instead of working on a farm or in a factory somewhere.

Then, you get called up to the bigs. It's a bit confusing at first, this sprawling mass of people and buildings crammed onto the tip of a tiny peninsula. You meet some interesting characters in the clubhouse, like that guy from the A's who's always talking about Zen or something. You really hit it off with that laid-back stringy-haired fellow from Seattle. You used to beat up kids like that in junior high. You politely turn down his offer to share a blunt, though when you get home you don't know why. Nothing wrong with a little toke now and then, you think. Whoa. Where did that come from?

You're not sure what to think. These people didn't exist back home. But y'know, they're pretty nice guys, so they can't be all that bad. And the people here are kinda friendly, not like you expected from Californians. When it comes time to pick a place to settle down, you don't go up to Marin. You get a nice place in Noe Valley, which is great because there's that fantastic little sandwich place in the Castro.

In the Castro? You leave that part out when you call your parents that evening.

And then, before you realize it, you wake up one morning and you're telling people how to get to Portero from Pacfica and laughing at all the rubes who still say "Frisco." Your hair is longer than it's ever been. You know that Buena Vista is way overpriced and that Fisherman's Wharf is too touristy and if you see a big, hairy guy in pink leather walking down Folsom Street leading a midget dressed as a blood-spattered Benjamin Franklin around on a heavy chain, you automatically think, "Is it time for the Fair already?"

And then the night you blank the Rangers in the World Series (the World Series!), the sound of 43,000 people singing "Lights" still ringing in your ears. You glance in the rearview mirror as you drive back home. It's the Bay Bridge, all lit up like a diamond necklace strung between the two cities it links and you get this little feeling in your chest, like you've just witnessed something magical.

You can't believe how far you've come in so little time. You love this city, and it loves you. And the next morning, you hope that guy on McCovey Chronicles is uploading the newspaper front pages from your victory so you can glance at them as you sip your coffee.

Today is your day, Matt Cain. Savor it.
SAN FRANCISCO CHRONICLE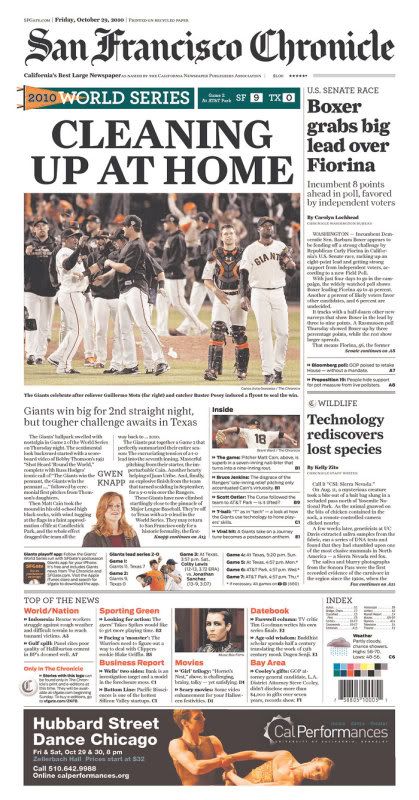 SAN FRANCISCO EXAMINER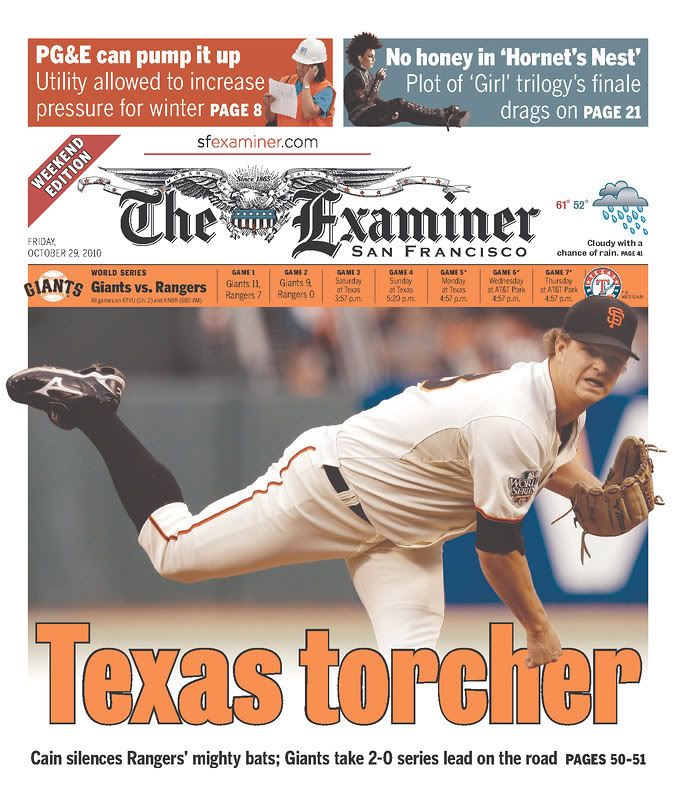 OAKLAND TRIBUNE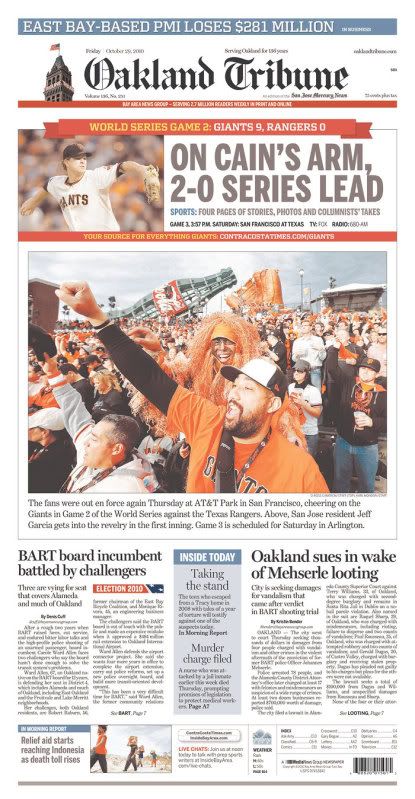 SAN JOSE MERCURY NEWS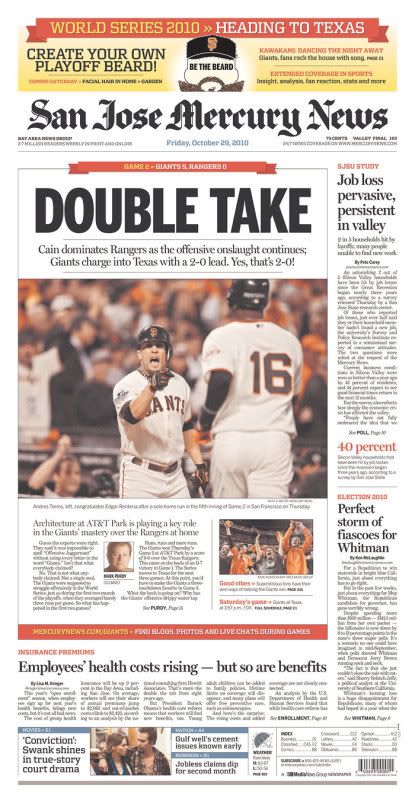 SANTA CRUZ SENTINEL
FRESNO BEE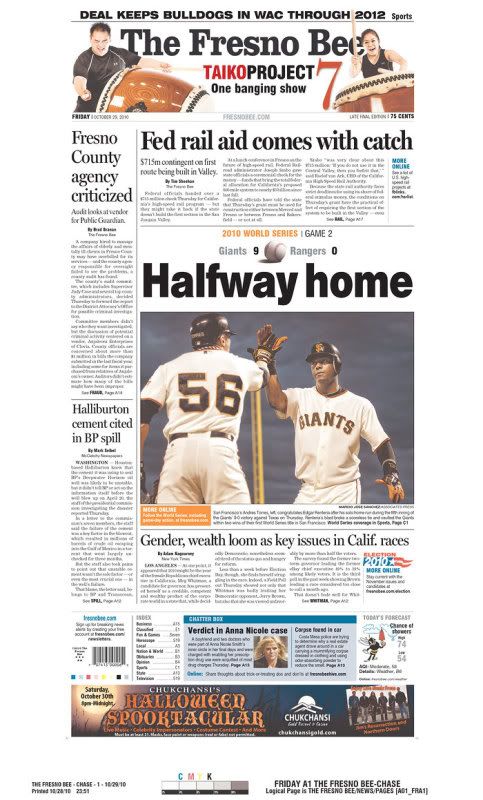 LAS VEGAS REVIEW-JOURNAL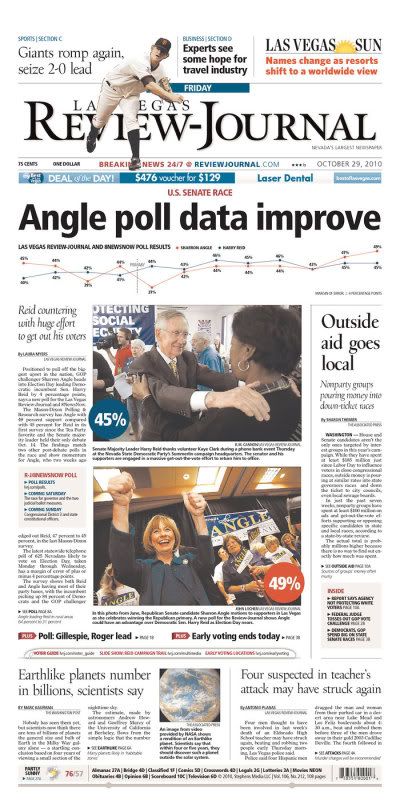 SEATTLE TIMES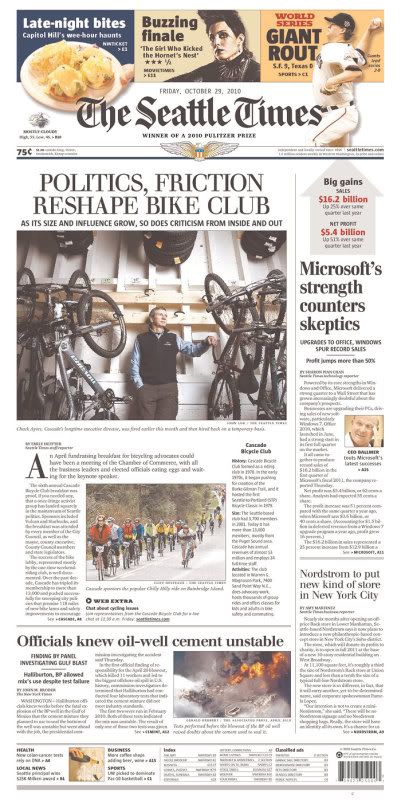 The local boy made good graces the front page of the
MEMPHIS COMMERCIAL APPEAL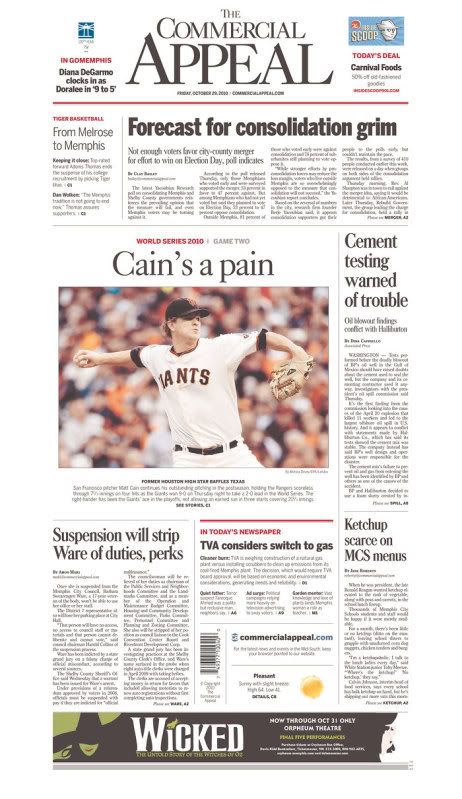 NEW YORK DAILY NEWS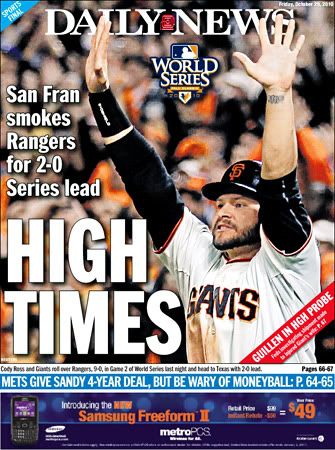 SAN ANTONIO EXPRESS NEWS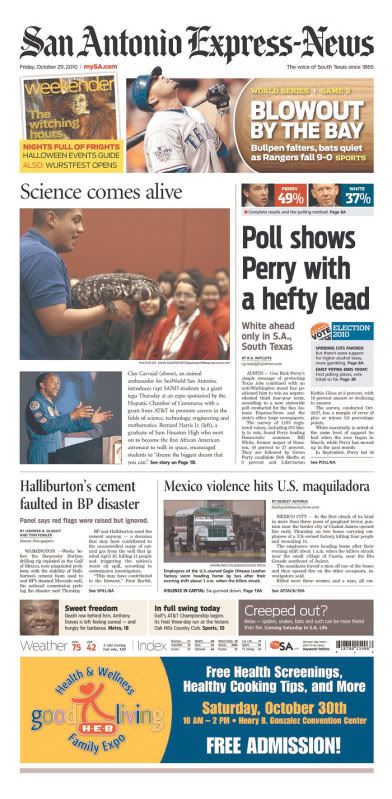 FORTH WORTH STAR-TELEGRAM