On Friday night September 4, the Fresno Grizzlies began their final series of 2009. The four game series in Reno would put an end to their twenty five game stretch without a day off. It would also wrap up a three and a half week set of games that included twenty one road games.
As a lifetime Giants fan, it has been great for me to watch 3A games this year as a season ticket holder for the Reno Aces. I had forgotten how much fun minor league ball can be. The atmosphere is much more intimate, and the level of communication with the players and Coaches reminds me why I love baseball. We selected our seats in the first row of the first base side so that we could visit with the opposing players and coaches. We have spoken with Coaches and players including Rene Latchman, Eric Young Jr., Howie Kendrick, Brandon Wood, Sal Fasano, Dan Ortmeier, Randy Messenger,Scott Munter, and others from the visiting 3A teams.
During the last home stand with the Grizzlies in Reno, Mrs. NVSFG and I were able to talk baseball with First Base Coach and Former Player Hensley (Bam Bam) Meulens during the games. Each game we talked with him about his career, the Grizzlies, and the Giants in general. My younger daughter was pregnant at the time and he gave us a signed ball for our yet to be born grandson.
At the start of series on Friday evening, Bam Bam walked over to our seats, said hello, asked how we were doing, how was our grandson, and basically wanted to catch up on what had happened since he had last seen us. It kind of blew me away that he would remember us, and that he would go out of his way to see how we were doing.
Enough chatter, back to the games this weekend. As most of you have know by now it was a terrible series for the Grizzlies. The looked and acted tired, and honestly looked like they were ready to go home. As tired as they were, most of the players were very loose, laughed, joked and talked with the fans in our area during warm ups each day. On Friday night Freddy Sanchez was working his rehab stint. He took time to talk and sign autographs for a large number of fans.
During this homestand, Bam Bam walked over spoke with us each inning. Mrs. NVSFG told him that for all of the games she had attended during her life, she had never gotten a bat. After Matt Downs broke his bat in the next inning, he taped it up and hand carried it over to her seat. Because she had told him that I was his adopted Dad on McC, Downs signed it after the game. As he was leaving the field he turned around after a loss, and walked back to sign the bat. As much as I love the Giants and would rather see the "Big Club" play, this weekend was the most fun I have had at a baseball park in a long time. So much for all of the chatting. On to the pictures from today's game and the weekend.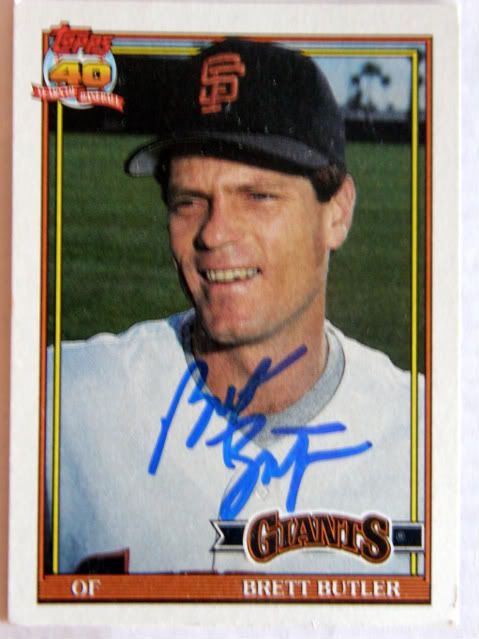 Brett Butler signed this 1990 Giants card before today's game.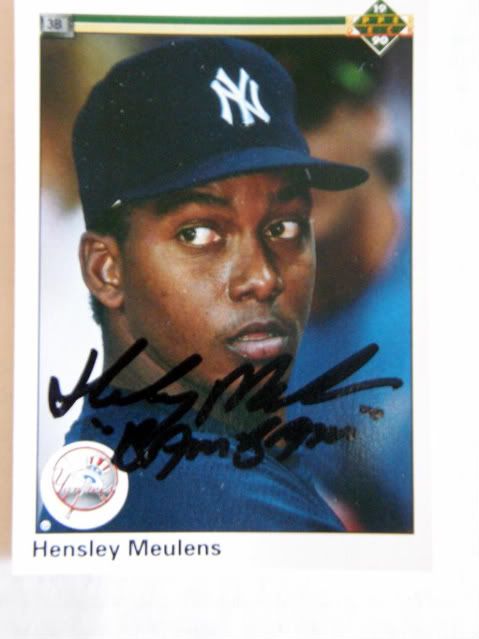 Bam Bam signed this Rookie card on Friday night
A signed bat from my son. Mrs. NVSFG says I can have it if she dies.
Kevin Frandsen trying to decide if baseball is the right career choice for him. I asked him if he ran over Sabeans dog or spit in Bochy's cap.
Matt Downs and Kevin Frandsen looking for a way out of Fresno
Three guys who are tired of being on the road.
Your friend and mine Joe Martinez.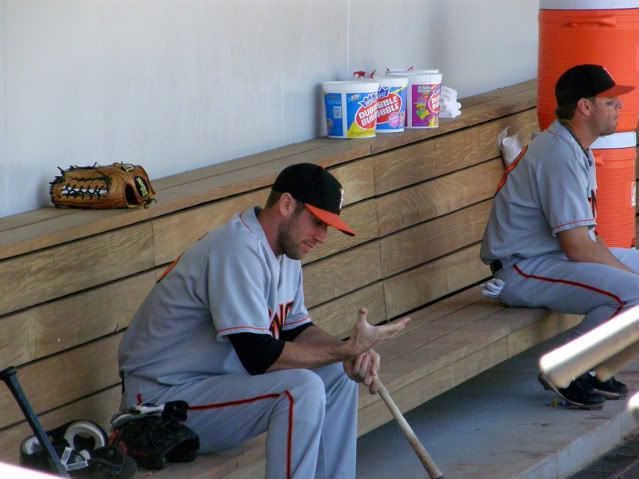 Jake Wald trying to figure out how to get a hit in Reno.
Bam Bam and my son listening to their last national anthem for a while.
Our seatmates actual son Luke, throwing out the first pitch for today's game.
Adam Witter, Pat Rice, and Steve Hammond. Let's get this show on the road.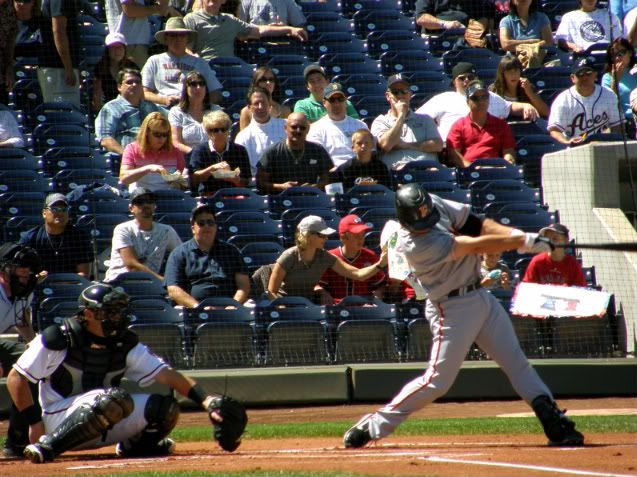 Kevin Frandsen base hit.
Matt Downs fights off an inside pitch for a base hit. Two on , one out !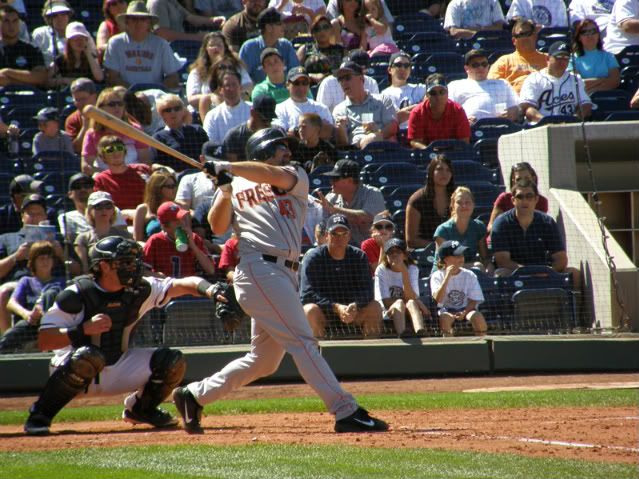 Adam Witter strikes out to end the inning, leaving two runners stranded. Just like the big club !!
New Guys Below
David Maroul 3B . This dude looks like a ball player.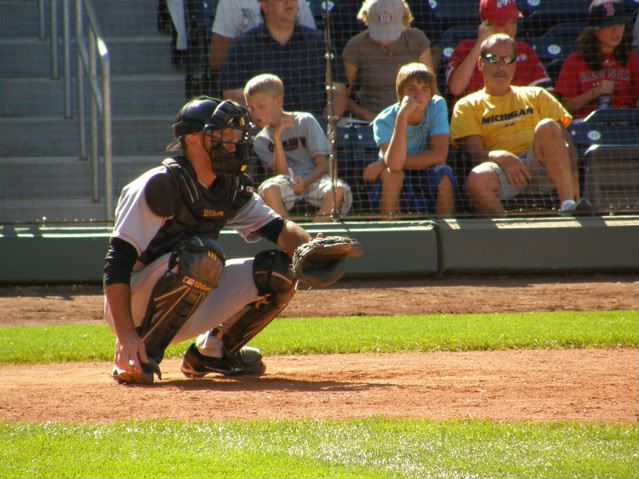 Jesse Shriner C
Skyler Strosmoe RF. Had to check that spelling.
Steve Palazzolo Sighting ! Dude is a freaking giant, and that fastball sinks like a mafia guy with cement shoes on.
David Maroul fields the ball to throw out Cole Gillespie>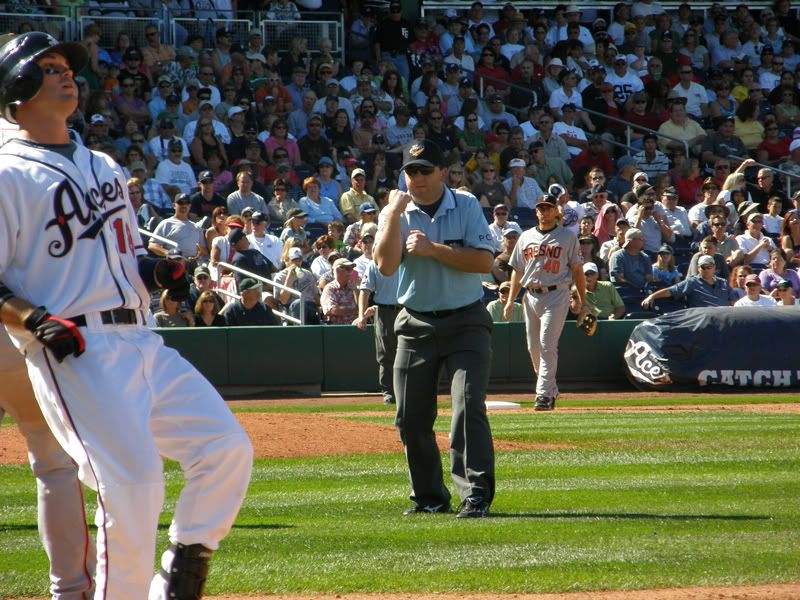 Newly acquired D'Backs prospect Cole Gillespie grounds out off of Palazzolo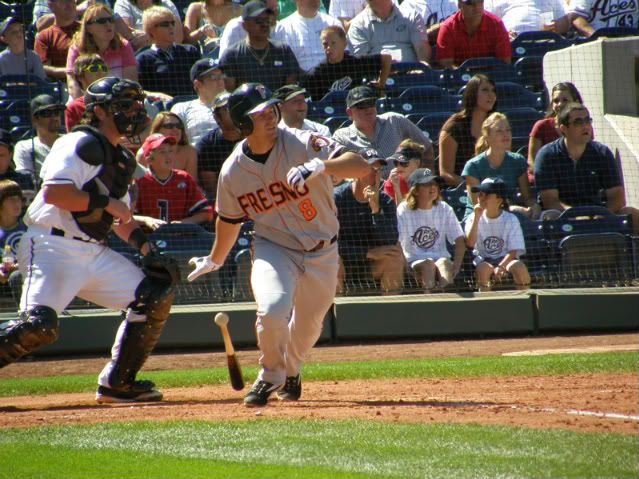 Clay Timpner Base Hit !
Clay Timpner catches a fly ball in the 8th
Final Inning and Jake Wald is ready to go home.