Last night the
Reno Aces ( Diamondbacks AAA)
played the first home game in the long awaited return of professional baseball in Reno, NV. The starting pitcher was none other than former short term Giant Travis Blackley.
Season Tickets cost me about the same as my three annual pilgrimages to the mother ship, and I figured what the hell, it's professional baseball, sort of. As a Giant fan, I could not sit on the home side, so I selected the best seats I could find, first base side, first row, and the other season ticket holders are great. All Giants fans, and one A's fan next to us. About halfway through the game, Mrs. nvsfg said "Hey these guys are pretty good. Too bad I can't cheer for them". Myself and our seat mates agreed that we would cheer for and support the local boy's except when they were playing "Our Guy's"
The park dimensions are huge, Left-field line, 339 ft., left-field alley, 370; center field, 410; right-center field, 423 right-field alley, 386; right-field line, 340, and contain elements of many major league parks Left Field and Left Center is about a 75 ft green monster type High Wall Edit: The "Wall" seems to be closer to 45 or 50 ft , and Right Center is deeper than AT&T. The dimensions and wall scared the hell out me until I thought about the 5000 foot altitude.
All in all a good night. Blackley went five and The Aces won 11-1, with no HR's hit in the new park. I have three favorites already of the local guys. Josh Whitsell (1B), Josh Wilson (SS), and Trent Oltjen (RF).
The Grizzlies are in town from May 8-11, and I will post pics of the bastard sons of the San Francisco Giants when they hit town. Below are few select pictures from "Opening Day".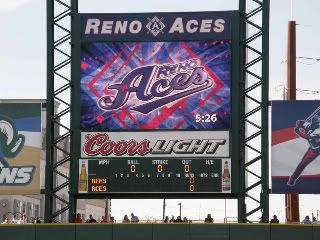 About 45 minutes prior to game time.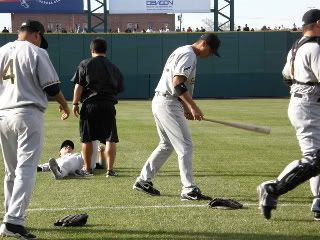 View From My Seats. Can talk to the players during warm ups. The Bee's guys were pretty cool, but still a little subdued about Adenhart. Most of these guys knew him pretty well.
Let's get this thing rolling. First Game ever, Home Opener and of course the Mayor(s), City Council, Owners, and MLB had things to say. Mostly Thank You, Thank You, please come and spend money.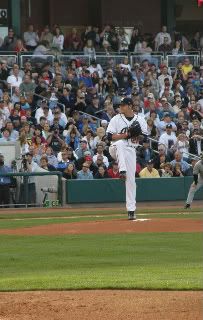 First Pitch !! Strike One.
First Base Coach would not stay in the box. Kept moving around and blocking people's views. Everyone in our section endlessly heckled him.